Acquisition of Demandware by Salesforce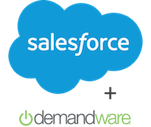 Many large acquisitions in the Cloud Ecommerce business have emerged in the last few years. Prior to Adobe's deal, Salesforce has acquired in 2016 for $2.8 billion Demandware, a global cloud leader in digital commerce market to all business size, which results in the creation of Salesforce Commerce Cloud division. 
Yet again, Salesforce, a specialist in CRM (Customer Relationship Management) has diversified into commercial applications through acquisition and internal development. Combined with the new division of Demandware, a cloud-based Ecommerce platform, they extended their services into a complete system from marketing to back-office software for sales.
That also allowed Salesforce to expand its customers based contracts with the new services while reaching a new group of customers at the same time. As a result, Salesforce's revenue across its cloud activities reached an ever high $8.5 billion in 2017, and is expected to reach a staggering $10 billion this year. 
Purchased of Hybris by SAP

Another well-established player is the now called SAP Hybris following the successful acquisition of Hybris by SAP in 2013 for over $1 billion. Initially an expert in ERM software, SAP diversified its activities into Ecommerce solutions and content management with the purchase of Hybris. SAP Hybris has since been able to tackle IBM with its Unica and Sterling Commerce, and Oracle's AGT and BEA commerce-oriented solution, by delivering a unified and consistent cross-channel customer experience.